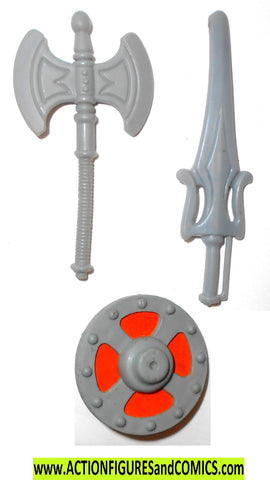 Masters of the Universe HE-MAN sword shield ax 1982 complete set
action figures for sale, SHOP TO BUY TOYS in online store purchase for: 
Mattel's MASTERS of the UNIVERSE (Vintage Series)
1981/1982 Authentic vintage SKELETOR HE-MAN Complete Weapon Set*
*Includes genuine 1981/82 SWORD with handle, SHEILD with inner red cardboard, and the battle axe
COO stamp:  Sword and Axe are Taiwan, Shield is USA
Condition: Overall Great condition. Sword handle is fully intact, shield still has the red cardboard inside and both clips and handle on the back are fully intact. minimal wear
---------------------------------------------------------------
Click the image below to check out the entire Masters of the universe collection
SHIPPING COSTS:
Within the USA: 5.95
Worldwide shipping costs: 17.95
Save with great combined shipping deals when purchasing multiple items.
Payments accepted:
---
We Also Recommend